Grabill man charged with the cold-case murder of April Tinsley
FORT WAYNE, Ind. (Fort Wayne's NBC) – Fort Wayne Police have made an arrest in one of the most famous cold cases in the city's history.
John D. Miller, 59, of Grabill, is facing preliminary charges of murder, child molesting and confinement in connection to the rape and murder of 8-year-old April Tinsley in April 1988.
According to a probable cause affidavit, a FWPD detective arranged for DNA testing to be done on the April Tinsley suspect evidence sample in May 2018.
Parabon Nanolabs was contracted for the testing, and they were able to narrow down the DNA to two living brothers using an open public genealogy base.
On July 6, a covert trash pull was conducted at Miller's home in a trailer lot in Grabill, Indiana.
As it turned out, the DNA was a match.
On Sunday, July 15, 2018, police approached Miller at his home and asked him to talk at the police station.
They asked him about the murder of April Tinsley, and he eventually admitted to the crime.
He said he choked April to death so she wouldn't tell police.
It took April Tinsley 10 minutes to die, he told investigators.
After she died, Miller told investigators he violated her again, and then dumped her body in Spencerville, Indiana.
He is set to appear in court on Monday.
Reaction poured in swiftly from across northeast Indiana and beyond.
The president and CEO of the National Center for Exploited & Missing Children released a video message thanking those whose work led to the breakthrough.
"We applaud Fort Wayne police and so many other investigative agencies who have worked tirelessly over the years, utilizing every advancement of technology available," John F. Clark said. "These cases should remind everyone that no matter how much time goes by, the answers are out there."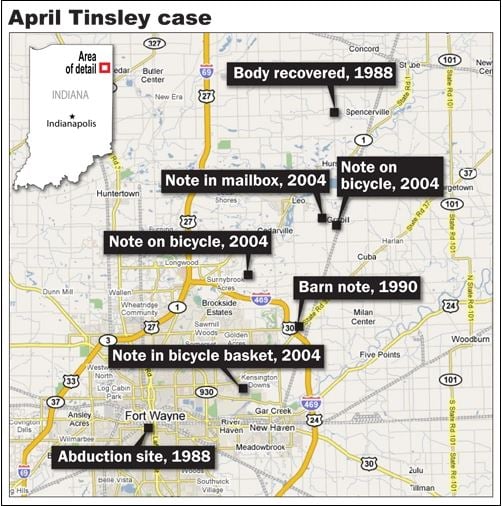 On Good Friday in 1988, April was abducted while walking home from a friends house.
Three days later, her body was found in a rural area in DeKalb County.
Two years later, a message written on a barn door close to where her body was found appeared.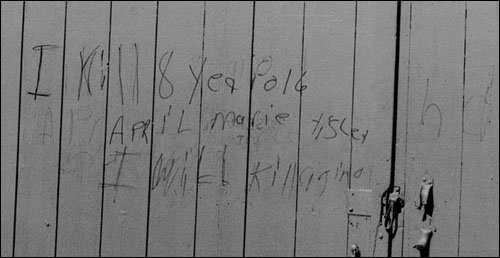 Then in 2004, four notes showed up in Fort Wayne. Many of them were placed on little girl's bicycles that had been left in the yard.
Police believe the notes were left by the killer.
The notes, all on lined yellow paper, were placed inside baggies along with used condoms or Polaroid pictures of the killer's body.